The best gaming projectors deliver a crisp, expansive and vibrant image and also manage to keep input lag to a minimum and offer a high refresh rate. 'How so?' You ask. Well, projector technology has come on a lot in recent years, but most importantly key technologies are getting quite a bit cheaper—so the standard for projector quality is up across the board.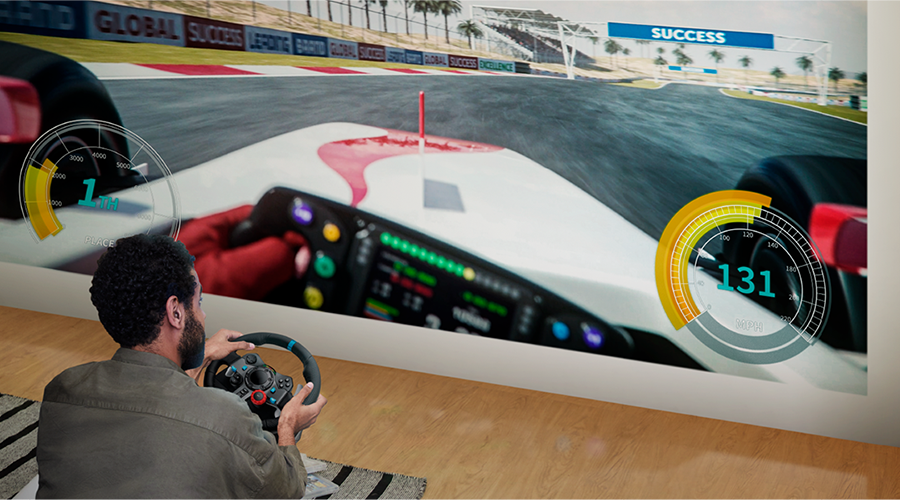 The top gaming projectors won't have you complaining about lag, and they can even keep up with some of the best gaming monitors. While the best gaming projectors may not be able to match the contrast levels as you would, let's say, an OLED TV, these projectors still provide some great picture quality and a new way to enjoy your favorite games. 
If you're looking for a gaming projector, there are a few things you should consider:
Resolution: The resolution of a gaming projector is important because it determines the quality of the image. Look for a projector that offers at least 1080p resolution, but if your budget allows, go for a 4K resolution projector for the best gaming experience.

Refresh rate: The refresh rate of a projector is the number of times the image is refreshed per second. Higher refresh rates mean smoother, more fluid motion on screen. Look for a projector with a refresh rate of at least 120Hz, but higher is better.

Input lag: Input lag is the delay between a button press and the corresponding action on screen. It's crucial for gaming projectors to have low input lag, so you can react quickly to what's happening on screen. Look for a projector with an input lag of 30ms or less.

Brightness: The brightness of a gaming projector is important for two reasons: it affects the clarity of the image, and it allows you to play in well-lit rooms without losing image quality. Look for a projector with at least 2,000 lumens of brightness.

Contrast ratio: Contrast ratio is the difference between the brightest and darkest parts of an image. Higher contrast ratios mean deeper blacks and more vibrant colors. Look for a projector with a contrast ratio of at least 10,000:1.

Throw distance: The throw distance is the distance between the projector and the screen. This is important to consider because it affects the size of the image you can project. Make sure to choose a projector with a throw distance that works for your room size and setup.

Connectivity: Look for a projector that has multiple HDMI ports, so you can connect multiple devices, such as a gaming console and a streaming device, at the same time.

Audio: While the image quality is important, the audio quality is also crucial for a gaming projector. Look for a projector that has built-in speakers or has an audio output for external speakers.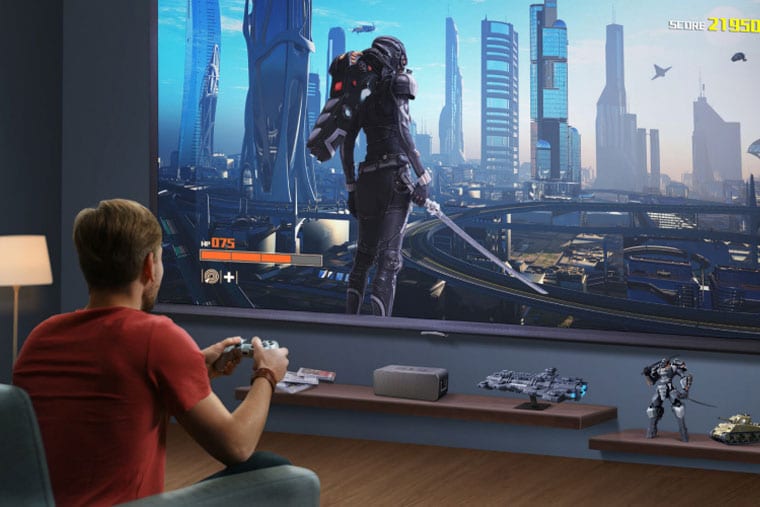 There are several great gaming projectors on the market, each with their own strengths and weaknesses. Here are some of the best gaming projectors you can consider:
Optoma UHD35x
Best Gaming Projector
The Optoma UHD35x goes all-in on both resolution and speed to make the most of your games while still costing less than $2000. This projector can spit out a 4K UHD picture in HDR and let you play with a reasonably low 16ms input lag at 60Hz for pristine visuals in story-based games blown up to 300 inches on your walls. When it comes time to sweat in competitive games, you can always switch the projector over to the "enhanced gaming mode," running at 1080p with a 240Hz refresh rate for ultra-smooth gameplay and just 4.2ms of input lag.
Those capabilities come alongside vibrant colors and a 3,600-lumen brightness level, letting the Optoma UHD35x deliver realistic images in just about any space, though you'll still want to keep the ambient light low. A high contrast ratio also ensures even dark scenes are rich and detailed. And when you're ready to hook up your consoles or PC, there are only two HDMI ports on this projector, meaning you may have to swap cables now and then or opt for an AV receiver if you're running several gaming platforms.
Optoma HD39HDRx
Best Budget Gaming Projector
You don't need to spend a fortune to blow up your game's image, as the Optoma's HD39HDRx projector lets you play on a picture stretched up to almost 300 inches for under $1600. The grand size is aided by its dazzling 4,000-lumen brightness, so you're good to play in most spaces. It also supports HDR content, taking advantage of the brightness levels for deep black and bright highlights, and delivers a wide color gamut with great accuracy. There's even a game mode on the projector, optimizing the contrast and color for a more immersive experience.
The Optoma HD39HDRx gives you a solid footing in games, even if it comes at a lower price point than the UHD35. It offers the low input lag that has made many of Optoma's projectors competitive in this space. This model delivers just 8.4ms of lag when running at 1080p and 120Hz, giving you plenty of speed for fast-paced, stutter-free gameplay. You also get two HDMI ports to plug in your consoles, while one of those ports supports 3D content. And a powerful built-in speaker means you won't need to shell out extra cash for an external speaker setup.
Epson EpiqVision Ultra LS500
Best Ultra-Short Throw Gaming Projector
While projectors make it easy to get a huge picture, some of that simplicity may be offset by the fact you now need to have all of your gaming setup behind you (or in the middle of the room) or run long cables across the room. That's solved with an ultra-short-throw (UST) projector, and the Epson EpiqVision Ultra LS500 is a champ UST projector for gaming.
This projector can sit right next to your wall or projector screen and cast a 70- to 130-inch image. With 4,000 ANSI lumens of brightness coming from a laser light source and 3LCD display technology, you're going to get an uncompromising picture with no rainbow effect. The laser will also let you enjoy maximum brightness without the same, shorter lifespan of bulb-based projectors. The EpiqVision Ultra LS500 supports 4K gaming and HDR while boasting a 16.7ms input lag. Adding to its convenience, this projector includes built-in 10W stereo speakers and its own streaming stick (though you can always swap it out for your own preferred stick).
Ultimately, the best gaming projector for you will depend on your specific needs and preferences, as well as your budget. it's important to consider a balance of resolution, refresh rate, input lag, brightness, contrast ratio, throw distance, connectivity, and audio quality to ensure the best gaming experience.