Philips 34" LCD with Webcam and Speakers - Work From Home
Model: 34E1C5600HE/75
Thie Philips 34" LCD with Webcam and Speakers - Work From Home monitor is designed for the remote work environment. The integrated 5MP webcam delivers sharp images, and noise cancelling mic helps people hear you loud and clear. Windows Hello Webcam for quick access and strong security.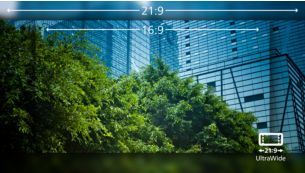 CrystalClear images with UltraWide QHD 3440 x 1440 pixels
These Philips screens deliver CrystalClear, UltraWide Quad HD 3440 x 1440 pixel images. Utilizing high performance panels with high-density pixel count, 178/178 wide viewing angles, these new displays will make your images and graphics come alive. The UltraWide 21:9 format enables more productivity with more room for side-by-side comparisons and more viewable spreadsheet columns. Whether you are demanding professional requiring extremely detailed information for CAD-CAM solutions, or a financial wizard working on huge spreadsheets, Philips displays delivers CrystalClear images.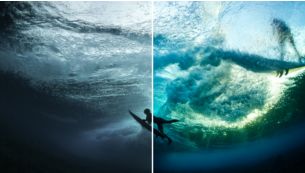 Ultra Wide-Color wider range of colors for a vivid picture
Ultra Wide-Color Technology delivers a wider spectrum of colors for a more brilliant picture. Ultra Wide-Color wider "color gamut" produces more natural-looking greens, vivid reds and deeper blues. Bring, media entertainment, images, and even productivity more alive and vivid colors from Ultra Wide-Color Technology.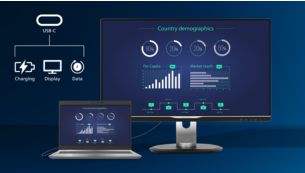 Connect your notebook with one USB-C cable
This Philips display features a USB type-C connector with power delivery. With intelligent and flexible power management, you can power charge your compatible device directly. Its slim, reversible USB-C allows for easy, one-cable connection. You can watch high resolution video and transfer data at a super-speed, while powering up and re-charging your compatible device at the same time.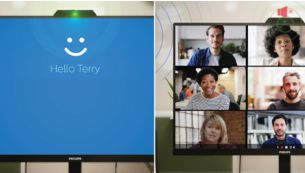 Webcam with noise cancelling microphone for collaboration
This Philips monitor comes with built-in 5MP webcam, noise cancelling microphone, and speakers. Making it perfect for working from home and collaborating remotely. The webcam is certified for Windows Hello. Equipped with advanced sensors for Windows Hello™ facial recognition, which conveniently logs you into your Windows devices in less than 2 seconds. The physical camera switch offers extra privacy when not in use. The noise-cancelling microphone and dual 5-watt integrated speakers deliver clear communications.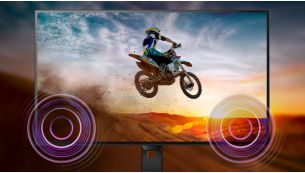 Built-in stereo speakers for multimedia
A pair of high quality stereo speakers built into a display device. It can be visible front firing, or invisible down firing, top firing, rear firing, etc depending on model and design.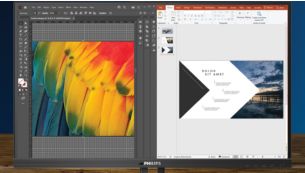 MultiView enables simultaneous dual connection and view
With the ultra-high resolution Philips MultiView display you can now experience a world of connectivity. MultiView enables active dual connect and view so that you can work with multiple devices like a PC and notebook simultaneously, for complex multi-tasking.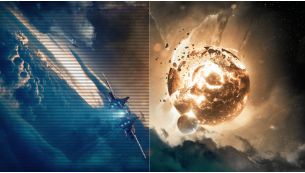 LowBlue mode and Flicker-free easy-on-the eyes viewing
Our LowBlue Mode and Flicker-free technology have been developed to reduce eye strain and fatigue often caused by long hours in front of a monitor.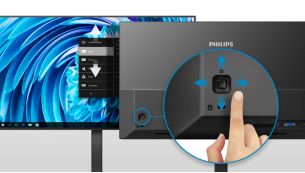 EasySelect menu toggle key for quick on-screen menu access
The discreetly placed EasySelect Menu Toggle Key allows you to make quick and easy adjustments to monitor settings in the On-Screen Display menu.
Cable management reduces cable clutter for neat workspace
Cable management is an intimate design that maintains tidy workspace by organizing cables and wires required for the operation of a display device.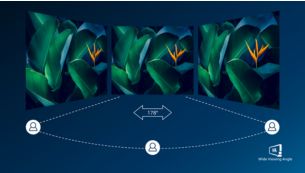 VA display delivers awesome images with wide viewing angles
Philips VA LED display uses an advanced multi-domain vertical alignment technology which gives you super-high static contrast ratios for extra vivid and bright images. While standard office applications are handled with ease, it is especially suitable for photos, web-browsing, movies, gaming, and demanding graphical applications. It's optimized pixel management technology gives you 178/178 degree extra wide viewing angle, resulting in crisp images.