LapCabby Lyte 10-Device Static AC Charging Locker for Laptops, Tablets Chromebooks
LapCabby Lyte 10-Device Static AC Charging Locker for Laptops, Tablets Chromebooks
Horizontal - up to 15"
The Lyte 10 Multi Door charges 10 Devices up to 15.6″ screen size – Chromebooks, laptops and tablets (including protective cases), POS devices, tooling and other chargeable equipment.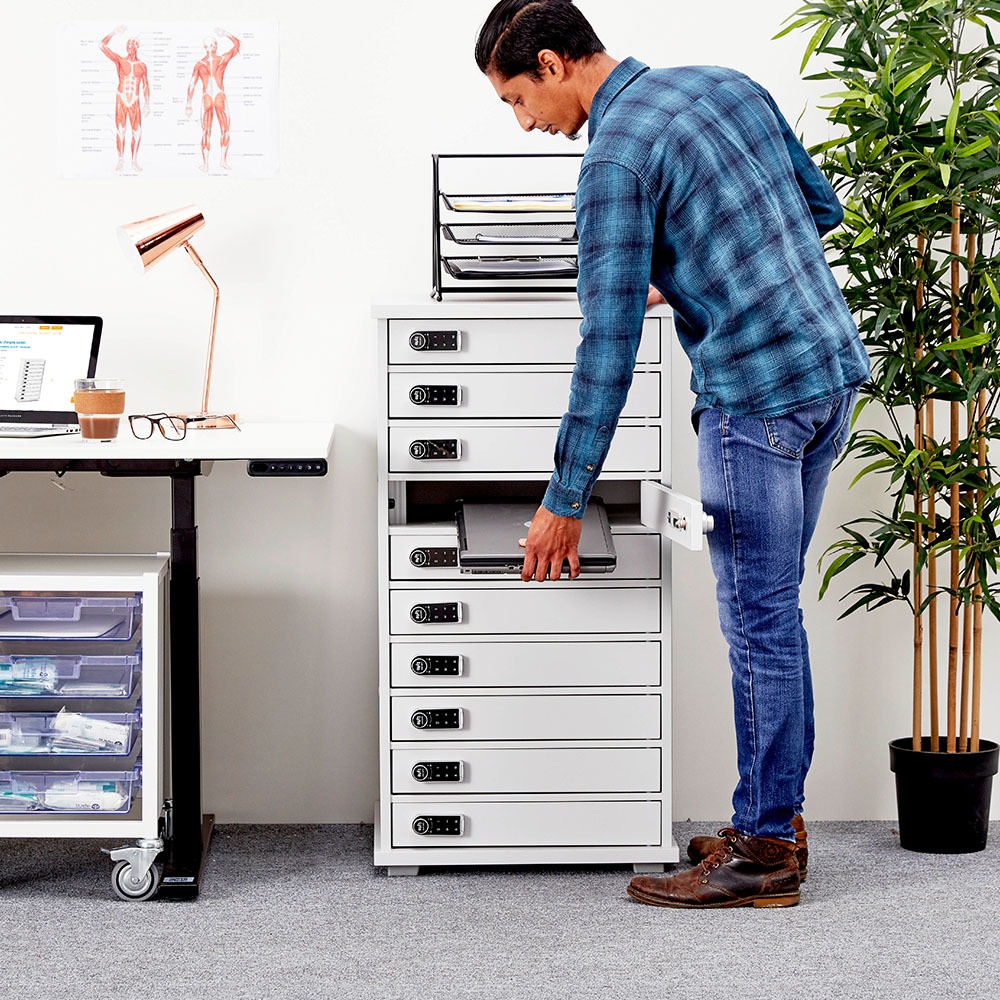 It has individual charging compartments including access to a power socket and secured with a reprogrammable combination lock.

With a multi-layered security system for users, admins and master code holders.
It is fast charging ensures devices are ready to go when you need them.
This unit is built to Last with high-density materials, components and construction processes to withstand the busiest environments such as education, healthcare, retail, industrial and commercial.

It has silent charging with a unique ventilation system and no noisy fan.
With Support for Life with Lifetime Warranty (5 years electrical), shipped fully assembled.
| | |
| --- | --- |
| Range | LYTE |
| Type of device | Chromebook, Laptop |
| Device screen size | Up to 15.6" |
| Number of devices | Up to 10 |
| Charge & Sync | Charge only |
| Type of charging | AC |
| Type of unit | Static unit |
Device Protection 
Devices sit horizontally within individually secured yet roomy compartments to protect the devices during charging
Each compartment fits up to a 15.6″ laptop and can accommodate other chargeable items such as photography, tooling, POS, diagnostic equipment
Check the Compartment Dimensions in Technical Specifications below
Charging
Charges 10 devices up to 15.6″ screen size – laptops, Chromebooks, tablets and other chargeable equipment
Locker has 2 x 5-way power strips installed, 1 per compartment, designed and manufactured in-house
IEC socket with 1.8m / 6ft power cord designed to snap out if pulled away from the wall to prevent damage
Simultaneous charging of all 10 devices to ensure devices are fully charged as fast as possible
Security and Protection
Industrial grade digital combination lock secures each compartment
In case a user forgets their code to the digital lock or access to a compartment is needed, a three-tiered security system with a User, Technician and Master Code level can override if necessary
Silent ventilation system includes side and rear vents to keep devices cool with constant air circulation without the need for a noisy fan that can also spread germs
Safety tested and certified by the independent Underwriters' Laboratory (UL)