BenQ DVY32 Conference Web Camera
Equipped with AI-powered auto framing, 4K UHD video, and omnidirectional microphones, the DVY32 is a versatile camera designed to provide the ultimate video conferencing experience.The DVY32 adopts advanced ISP processing algorithms to provide 4K UHD vivid images with evenly clear brightness. It produces super-sharp video, brilliant color, and premium optical accuracy.
Always look professional
Look and sound your best with the DVY32. Its 4K UHD video, wide angle lens, and noise-suppressing microphones make it the perfect conference camera for any meeting room.
As if you're there
Make discussions over video feel more like in-person meetings. With 4K UHD video, a wide angle lens, digital pan-tilt-zoom, auto-framing, and minimal distortion, the DVY32 optimizes the experience for everyone.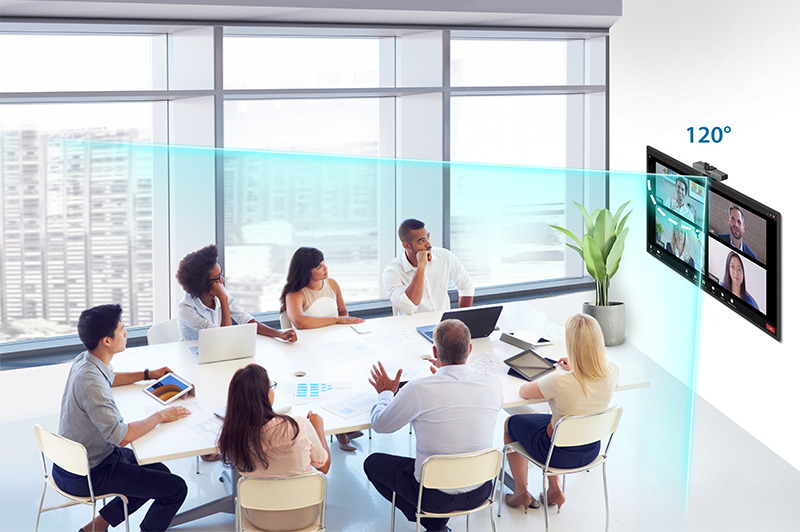 Crystal clear images
Vivid 4K UHD video with a 120° field of view lets everyone on the other side of the call see all details clearly. The DVY32 is not only perfect for meetings, but also online demos and product launches.
Digitally pan, tilt, and zoom as needed during meetings to keep the audience focused on what's important.
Meeting participants keep coming and going? AI-powered auto framing adjusts the shot so that everyone is always on screen.
Look natural without distortion
Most webcams distort the sides of images. The DVY32 automatically corrects distortion to stream accurate videos every time.
Enhanced low light performance
Without enhanced low light performance
Fit for all lighting conditions
The DVY32 delivers clear images under any lighting. BenQ's enhanced low light performance makes subjects stand out from the dark.
Sounds just right
Experience calls as clear as face-to-face discussions. Speak freely on video calls knowing everyone will hear you clearly as if you were in the same room.

Be heard loud and clear
The DVY32 is equipped with two omnidirectional microphones that pick up audio from 26ft (8m) away and minimize distracting background noise.
Reduce distractions, increase focus
The noise-suppressing microphones tune out background noise so people can hear you clearly and understand your talking points.
Easy setup for any meeting room
Flexible mounting options make the Zoom Certified DVY32 the perfect solution for meeting rooms of any size.
Professional-grade meetings
The DVY32 passes Zoom standards for optimal video conferencing. It is also compatible with all leading video conferencing apps, including TeamViewer Meeting.