Why Your Business needs a Smart Projector
Choosing a meeting room projector can offer several advantages over other presentation equipment for example some smart projector models like the Benq EW600 wireless smart projectors come embedded with TeamViewer Meeting video conferencing software that makes remote meetings straight forward and thrifty. As long as a camera is available, users can enjoy remote meetings on a large screen that makes it possible to see all participants and meeting materials clearly – an experience no other device can offer.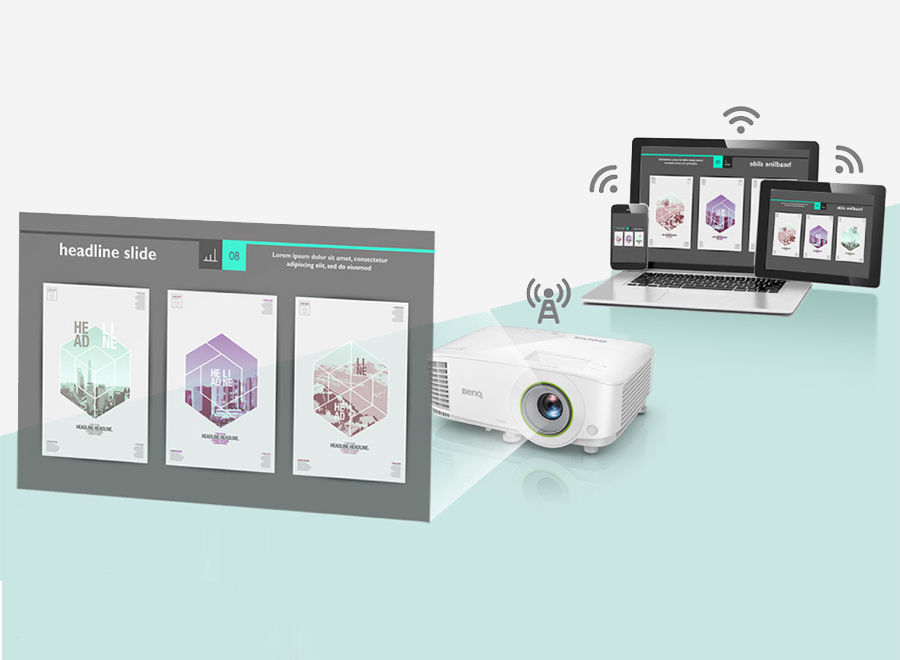 Some other advantages of a Smart Meeting Room Projector Include:
1. You can wirelessly present onto the screen from any device. Wireless projection technology now perfectly complements the BYOD era by maximizing situational adaptability. Employees can bring their own devices and participate in efficient discussion quickly and comfortabLarge Display:
2. Presententing onto a large screen size, which is ideal for displaying presentations or videos to a group of people.
3. A Built-in Web Browser enabling projectors to now replace PCs in the meeting room. Joining an international webinar or other online training event is now simpler than ever before. These new smart projectors will elliminate any traditional meeting room boundaries simply by being able to utilise any meeting space while any participants can share files directly from their devices during video conferences.
Overall, a meeting room projector can provide an efficient and cost-effective solution for sharing information and collaborating in a group setting, perefect for any modern business.
Go Smart for Meeting Efficiency
BenQ Android Smart Projectors E600 and E800 Series are equipped with a built-in Android operating system, enabling easy wireless projection, built-in business apps, and an over-the-air (OTA) firmware updates. It's the all-in-one display solution which can facilitate your discussions for a hybrid meeting.
Check Out our Smart Projectors for your Meeting Room
Take a deeper look at the BenQ EH600
The BENQ EH600 is a business class DLP projector that offers Full HD (1,920 x 1,080) resolution and is rated to deliver 3,500 lumens light output. In ECO mode the lamp is rated for up to 15,000 hours in Smart ECO mode. BenQ is promoting the EH600 as the "World's First Android Based Business Projector".
BenQ also offers a DLP, WXGA (1280 x 800) resolution, short throw projector with smart capabilities called the EW800ST the same retail price. BenQ EH600 is targeted toward meetings room while EW800ST  is more focused toward classroom applications.
These features include wireless projection capabilities, a built-in FireFox web browser, and the ability to present Microsoft Office files via USB or internal storage. You can wirelessly project from your smart phone, tablet, or laptop in a few easy steps regardless of whether you have a PC, Mac/iOS, or Android device.
While there are several business projectors that ship with an external Android smart dongle the EH600 has the Android OS built-in, in fact it even has 16GB of internal memory. The projector also ships with a Wireless Dongle (WDR02U) for wireless connectivity.  Firmware updates can be done "Over-the-air" to ensure the EH600 is always up to date.
The EH600 is an excellent solution for businesses looking for a compact smart projector that offers high brightness and low cost of ownership with up to 15,000 hour lamp life (smart ECO mode).