UHD55 smart projector for home. To create a personal home theatre or to set up a home office/school environmen
Optoma UHD55 Projector for Home Theatre - Jump into the Action
4K Smart Home Entertainment and Home Office Projector
Introducing Optoma UHD55 smart projector for home. To create a personal home theatre or to set up a home office/school environment, UHD55 is perfect any way. UHD55 delivers true 4K UHD resolution with the breathtaking images. With Wide Colour Gamut mode with 95% DCI-P3 coverage, UHD55 delivers authentic and lifelike colors, suitable for movies and games filled with brilliant colors or artsy hues that support HDR and HLG metadata.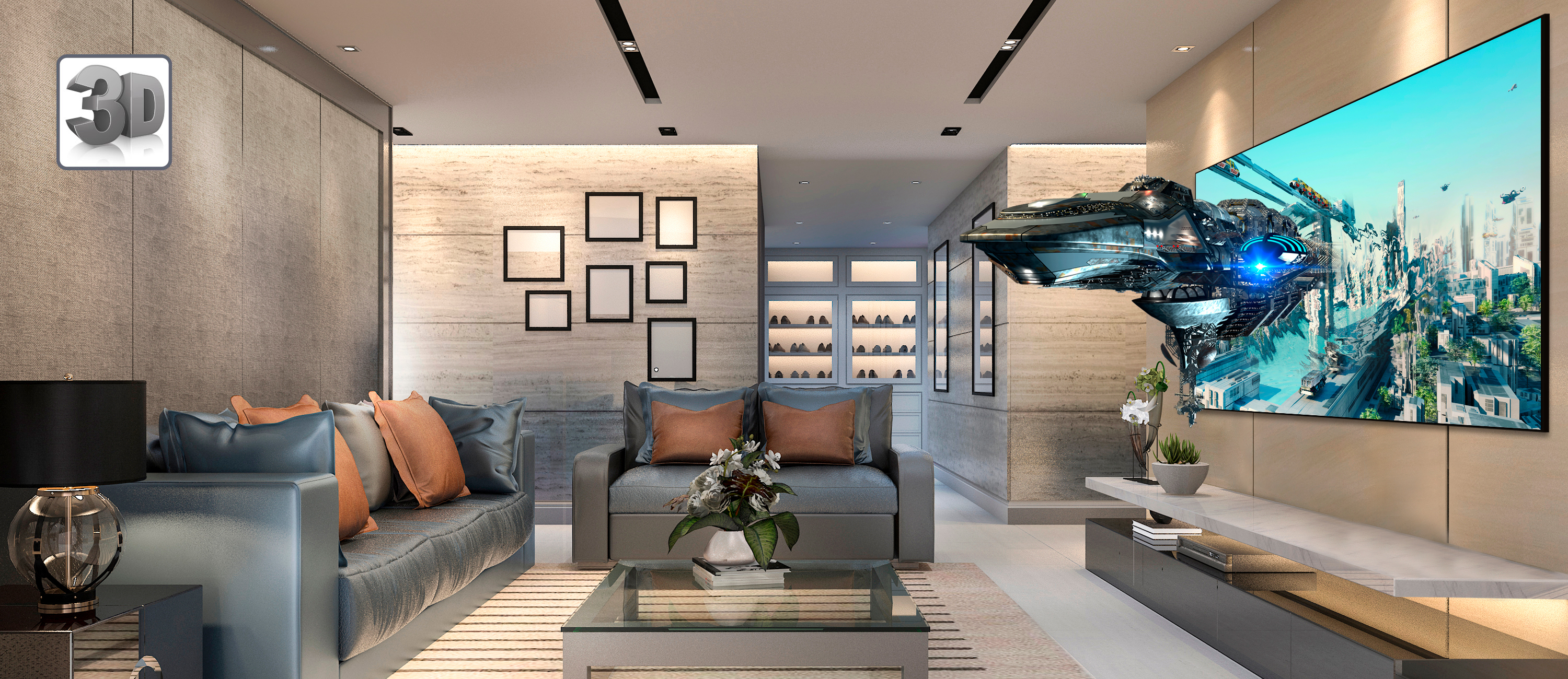 UHD55 also comes with the upgraded Smart Home features including Optoma Marketplace, File Manager, Creative Cast, and connectivity with voice assistants, offering the comprehensive home entertainment experience. With the ability to implement 4-corner adjustment, 2D keystone correction, vertical lens shift, powered 1.3x zoom, and warping at 3*3 matrix, UHD55 is perfectly easy to install in any room at home, or to create a simulation scenario.
Create your own entertainment room and personal office at home
UHD55 bring movies, sport, streaming media and more to life in sharp 4K HDR giant screen with unparalleled theater-quality colors and smooth visuals.
What is True 4K UHD
At least 8 million active pixels
The Consumer Technology Association (CTA) ® definition of 4K Ultra HD resolution states the display resolution must have at least 8 million active pixels.
The Consumer Technology Association (CTA)®
4K Ultra HD with at least 8 million active pixels displayed packs every detail the director intends.
Optoma HDR HDR10 / HLG
UHD55 supports HDR10 and HLG. When a HDR / HLG signal is detected, the projector automatically switches to HDR / HLG display mode. Through Optoma's HDR color mapping and tone mapping technology, it enables HDR / HLG movies or games to be presented at their best in terms of color accuracy and improved contrast ratio through dynamic contrast.
Wide Color Gamut Mode – MoreVisually Striking Movies
UHD55's Wide Color Gamut Mode enhances your movie experience by reproducing authentic and lifelike colors. Suitable for movies and games filled with brilliant colors or artsy hues that support HDR and HLG metadata.
95% DCI-P3 on Wide Color Gamut
Note:
1.Brightness drops to 450lm when the WCG_SDR/HDR/HLG mode is on.
2.The WCG_SDR/HDR/HLG Mode support is on HDMI Port 2 only.
Limitless Entertainmentwith Optoma UHD55USB
Connect your favorite media streaming devices or game console to the HDMI port of UHD55, including Roku, Amazon Fire TV, Chromecast Ultra, Nvidia Shield TV, Apple TV, Chromecast with Google PlayStation 5 and Xbox Series X/S.
Optoma Marketplace app store
Watch your favorite streaming movies and TV shows on a massive screen
Note:
1.Apps do not come pre-installed.
2.Apps and trademarks belong to their respective companies.
3.App resolutions are dependent on the policies of their respective developers.
4.App categories available may differ according to device firmware version.
5.Google Play Store services not supported.
Built-in or External SpeakerFantastic Sound for Gaming
Options for Convenient Sound
Auto Display Mode for Blu-ray 3D
Optoma provides "3D" display mode to resolve the issues related to variations in brightness of 3D images due to overlapping signals and use of specialized lenses. When a 3D signal is received from Blu-ray 3D, the system directly switches to [3D] mode to elevate image brightness and contrast.
Auto switching
Increased brightness and contrast
*Full 3D support is on HDMI2.
PureMotion
Using sophisticated frame-interpolation technology, advanced motion control processing eliminates motion blurring or image judder, even in high-speed action sequences.
*The PureMotion support is on HDMI Port 2.
Play big with family and friends. Scale up your gaming dramatically
Optoma takes gaming to the next level. UHD55 packs in everything a gamer could want: Immersive large screen image for the richest color gamut and sharpest contrast, extremely low input lag, high refresh rates,good motion handling and excellent contrast—perfect for intense gaming as well as casual gaming.
Perfect Display for Gaming
HDREffect
21:9 / 32:9Ultra Wide
4K60Hz
1080p240Hz
Enhanced Gaming Mode
Lag-freeInput Lag4ms@1080P240Hz
Low InputLag 16.9ms@4K 60Hz
*The Enhanced Gaming Mode support is on HDMI Port 1.
Less input delay means faster response times for a competitive edge!
See more with panoramic view
16:9 Conventional
21:9 UltraWide
32:9 Super Ultra Wide
Work from Home with Optoma
Big Screen Experience for the Whole Family – adults can work from home more efficiently and children can enjoy more engaging life-sized remote learning
True 4K UHD(3840x2160)
WirelessDisplay
File Manager
Low BlueLight Eye Care
Relieve your eye strain - Larger and sharp images with lower blue light
Designed to deliver detailed images, figures and graphics that look impressively sharp on a big screen.No need to squint to read figures on spreadsheets or text on complicated graphics.
Smarter home entertainment
Optoma built the smart platform with Android OS for more convenience and easy connection to multimedia.
*Internet connection is required for all smart features.
**Wifi dongle not included but to be purchased separately.
Learn more
Flexible & Hassle-Free Installation
2D KeystoneCorrection+/- 40 degreehorizontal & vertical correction
4-CornerCorrection
Lens Shift105%~115%(tolerance ±5%)
Digital Image ShiftVertical±100Horizontal±100
Digital Zoom95%~125%
Zoom Ratio 1.3xCan be adjusted usingZoom Lever & Focus Ring
Warping3*3 Matrix
4 Corner geometric adjustment+/- 40 degreehorizontal & vertical correction
A more intense level of realism and immersion with UHD55 curved-screen projection
Excellent for gaming, exhibitions and training simulators eg. flight, driving and helicopter simulation.
Warping adjustment - before and after
3x3 Distortion Correction
Application: Non-planar screens such a curved screens and advanced off-axis correction
Long Life of15,000 Hours
Dynamic Black Mode 15,000hrs
ECO Mode 10,000hrs
Bright Mode 4,000hrs
1USB 1-USB 2.0, Power OUT (5V/1.5A)
2VGA In
3USB 2-USB 2.0, USB stick and WiFi dongle
4RJ45
5RS-232
6HDMI 1 -V2.0 (HDCP2.2 / 4K 60Hz / Support low latency)
7HDMI 2 -V2.0 (HDCP2.2 / 4K 60Hz / Support MEMC / Support WCG-Wide Color Gamut mode)
8USB 3-USB 2.0 (USB stick and WiFi dongle)