Optoma AZH360ST 3600lm Short Throw Projector
Ultra-Compact High Brightness FHD 1080p Laser Projector
The Optoma AZH360ST 3600lm Short Throw Projector is Optoma's most compact hassle free FHD 1080p DuraCore laser projector to date. Designed for maintenance-free continuous operation, it can be installed in virtually any orientation and location due to the small and lightweight footprint (34% smaller).
Designed with the environment in mind the AZH360ST cuts power by 47% vs a typical Optoma lamp based product. In addition, being built around laser technology this ensure a long product lifespan without the need for additional lamps. Optoma have looked to minimize product design to cut logistic impacts on the environment cutting CO2 and reducing our overall carbon footprint.
This feature-packed projector has a built-in speaker and its laser technology delivers up to 30,000 hours of maintenance-free laser light source. Designed with ultimate control and convenience in mind, this projector comes with an RS232 connection for monitoring and controlling as well as a short throw lens meaning it can be setup less than half a metre from any wall.
The AZH360ST is geared for meeting rooms, medium-sized exhibition venues, events or tradeshows. It maintains excellent image quality as brightness and colour saturation is preserved for longer compared to lamp-based systems.
Short Throw
With a short throw lens, you can project an impressive 100" image from just over a metre away. This allows you to place the projector closer to the wall, reducing shadows so you can present with ease.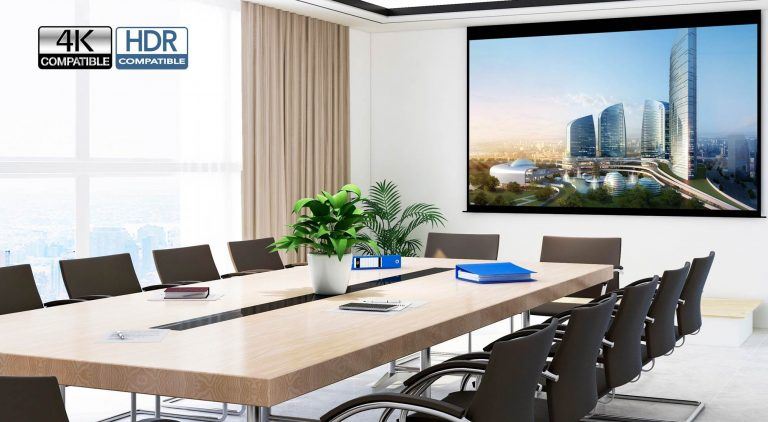 4K & HDR Compatible
High dynamic range (HDR) technology improves contrast ratio, brightness, and color depth on the display, delivers brighter whites and deeper black levels. It enhances the details and depth of field, making the images clearer and more realistic.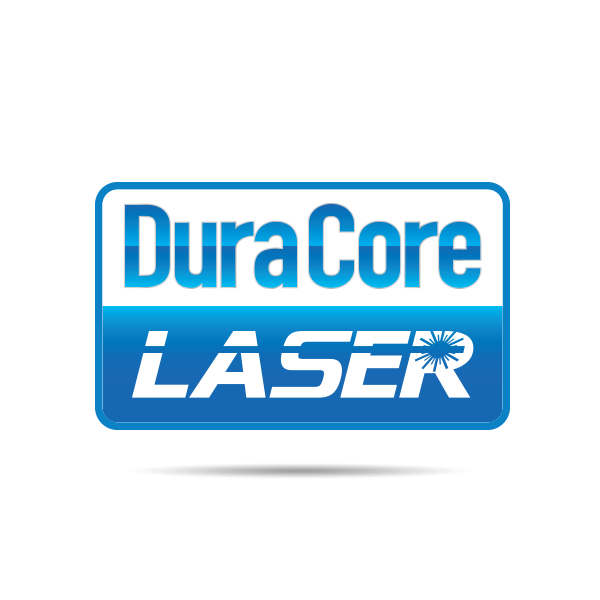 Optoma DURACORE Made for Environmental Sustainability
Designed with environmental friendliness in mind, Optoma is dedicated to providing eco-friendly, cost-effective, and reliable products, that bring better experiences to people all around the world. With the future-proofed laser technology, our products are energy-saving, mercury-free, and more economical.
Eco-friendly laser light source
With the latest laser technology and higher power conversion efficiency, the product saves up to 47% of power consumption compared with a lamp-based projector at similar capacity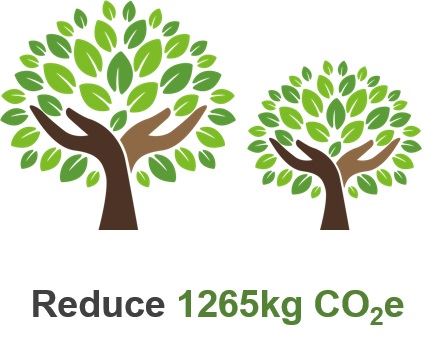 Carbon Footprint Reduction
Projectors with the latest laser light source reduces 1265kg CO2e for 20,000 hours of usage, which can save about 1.8 acacia trees*.
*One acacia tree has 718kg carbon fixation ability. Therefore, saving 1265kg CO2e = saving 1.8 trees.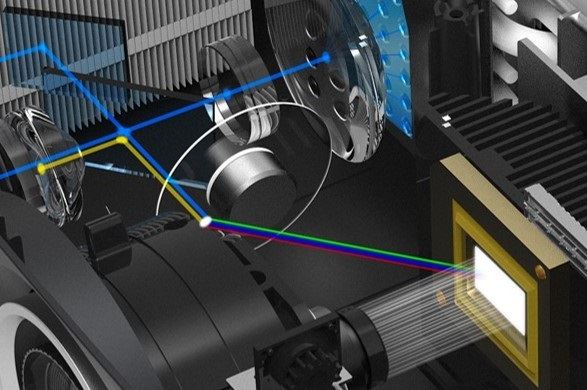 Mercury Free
High power consumption and mercury pollution in traditional lamp-based projectors are gradually replaced with more reliable, mercury-free, and eco-friendly lamp-free laser projectors.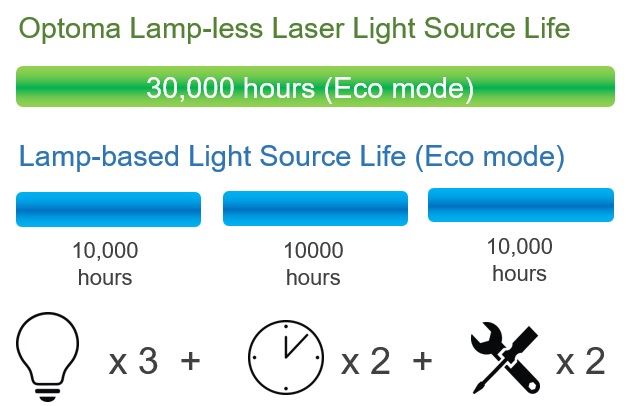 Maintenance Free & Economical
Laser projectors are durable with up to 30,000 hrs. life span (eco) and 24/7 operation, which save cost on the lamp replacements, and has a long-term lifespan for any professional applications.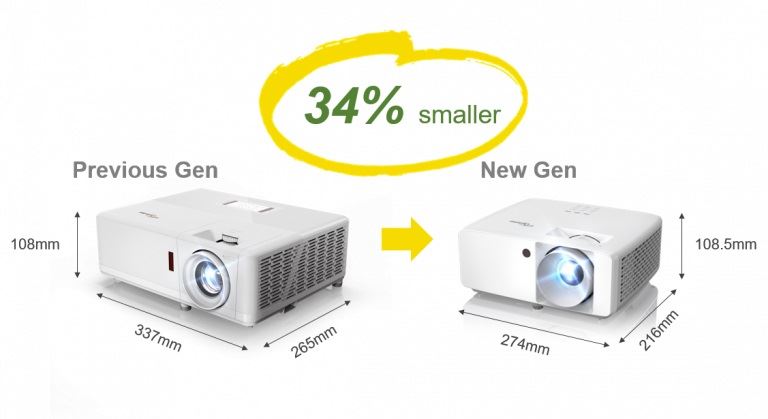 Compact and Reliable
Designed with simplicity in mind, Optoma dedicates to minimizing the product size and optimizing the component to be compact yet reliable enough for daily use.
Replace the thermal module with the heatsink.
The latest phosphor wheel is optimized from 54mm to 47mm compared to the previous-gen.
Remove the LVPS and replace it with an power adapter, which is easily to be repaired and replaced.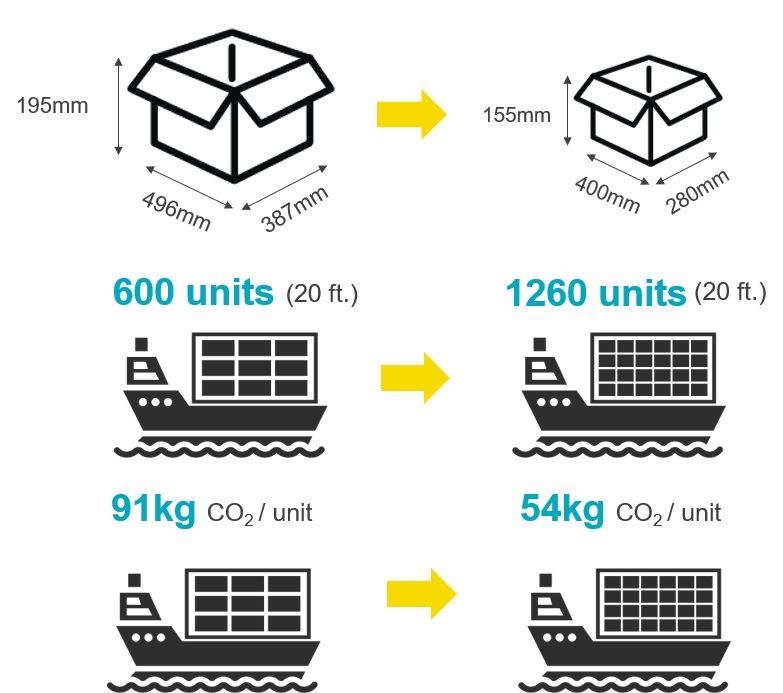 Optimized Packaging
With compacter product size, comes reduced packaging size as well. While package size reduced by 47%, it allows doubled quantity of products to be carried in the same space. It also help reduce 41% of carbon footprint per unit, offering a more environmental friendly and cost-efficient logistics option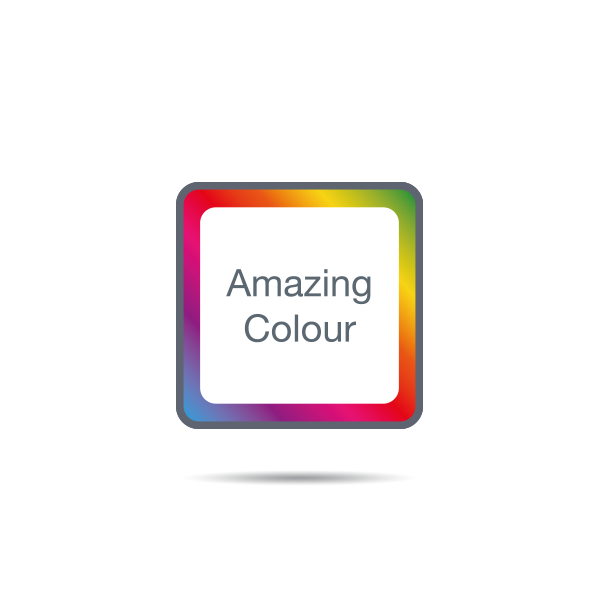 Amazing colour
Optoma projectors provide reliable colour performance suitable for any content and environment. From accurate sRGB colours for lifelike images to vibrant punchy presentations. We have a display mode to specific meet your needs. Perfect for a range of graphic and video presentations.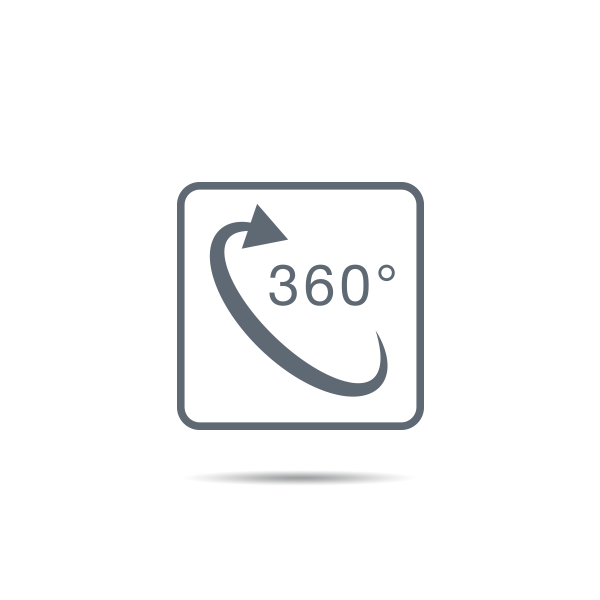 360 projection*
Images can be projected over a 360° range* along the projector's horizontal axis.
*For more information please refer to the user manual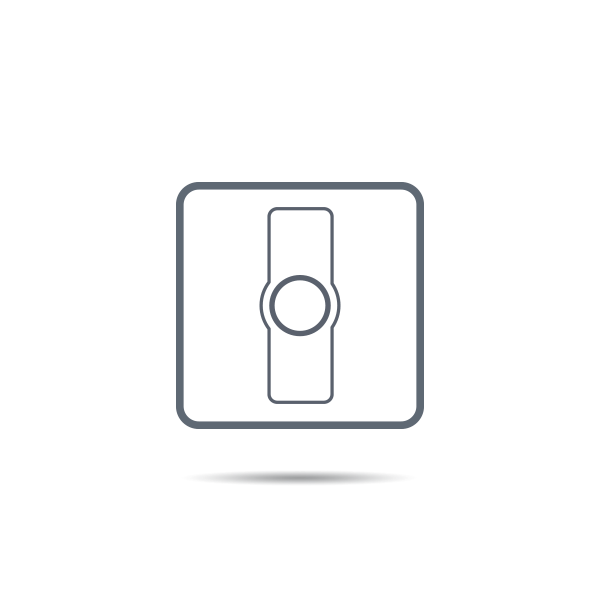 Portrait projection
Ideal for digital signage applications you can rotate your projector 90 degrees to project a portrait image.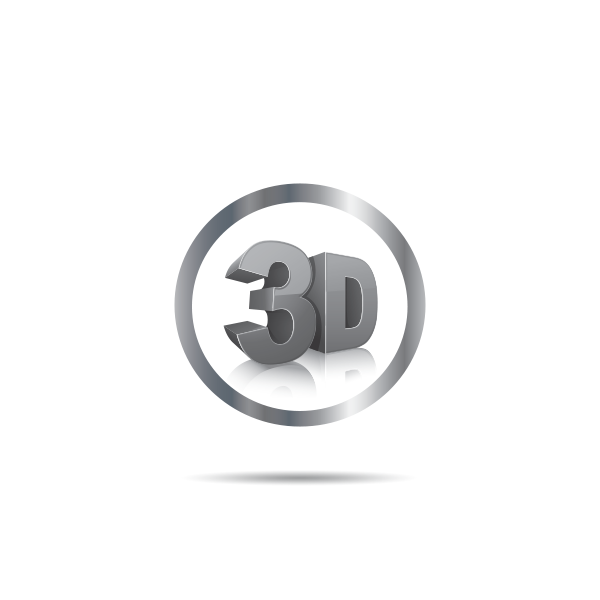 Full 3D
Optoma projectors can display true 3D content from almost any 3D source, including 3D compatible graphics cards, 3D broadcasting and the latest generation 3d media servers.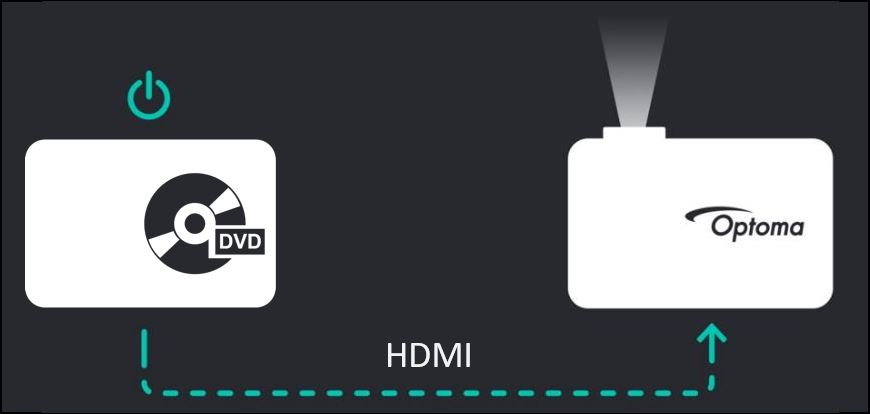 Device Control by HDMI CEC Link
When you connect HDMI CEC-compatible devices to the projector with HDMI cables, you can control them on the same power on or power off status using the HDMI Link feature. This lets one device or multiple devices in a group power on/off simultaneously.
Quick start-up and shutdown
This projector features quick start-up and shutdown and reaches full brightness quickly. To maximise energy saving it also includes a 'pause projection' feature where the light source can be completely shut off. Unlike conventional lamp based projectors, the laser- light source requires minimal cool-down time.
Low Noise: Quieter than a Whisper
Less than 30 dB in ECO mode.