Logitech Tap IP and Rally Bar Mini 
Logitech Rally Bar Mini elivers a powerful all-in-one video conferencing experience, featuring brilliant optics, automated mPT, and high-performance audio for huddle to small meeting rooms. With Logitech Rally Bar Mini, video meetings can be just as natural and productive as face-to-face collaboration
MAKE VIDEO MEETINGS SIMPLE TO JOIN
Meetings start with just one touch with Logitech Tap IP, a network-connected touch controller for Logitech room solutions. With clean cable management and a range of available mounts, Tap IP installs easily and stays up and running.
VIDEO MEETINGS FOR ANY ROOM
Easily transform meeting rooms into video collaboration spaces with Tap IP and Logitech room solutions. Start with pre-configured solutions that include video bars, conference cams, computes and other devices, and add scheduling panels, digital whiteboards, and accessories to power effective collaboration.
MEETING ROOM TOUCH CONTROLLER WITH POE CONNECTIVITY
More than a meeting room controller, Logitech Tap IP helps you achieve a consistent and seamless user experience across your video conferencing deployment.
This purpose-built touch controller has just the right presence with a spacious 10.1″ display and sleek, low profile. Take advantage of its single Power over Ethernet (PoE) connection and variety of mounting options to install the touch controller anywhere in the room. Prevent accidental disconnections thanks to built-in cable retention and strain relief, and be confident that each room stays ready for the next video meeting.
EASY TO USE
One-touch join: Easily start and join meetings with just one tap.
10.1″ touch display: Spacious and responsive touch screen resists fingerprints for high legibility, and is sealed to protect components.
Motion sensor: Built-in motion sensor allows for always-on readiness when a user approaches, and saves power when idle.
Sleek, low profile: Comfortable 14° angle allows for easy viewing, while providing an unobtrusive presence in the room.
SIMPLE TO SET UP
Single PoE cable: One cable for both power and data means flexible placement anywhere in the room, untethered to the room system and without the need for long cable runs. Clean cable management: Built-in cable retention and strain relief system hides the PoE cable entirely within its enclosure, and secures it to prevent unwanted disconnections. Multiple mounting options: Secure Tap IP almost anywhere in the room with available Table, Riser, and Wall Mounts for convenient placement near room participants.


DEPLOY ROOM SOLUTIONS WITH EASE
Transform collaboration spaces with Logitech Tap IP and leading video conferencing room solutions. Deliver one-touch join, easy content-sharing, and a seamless meeting experience across all rooms.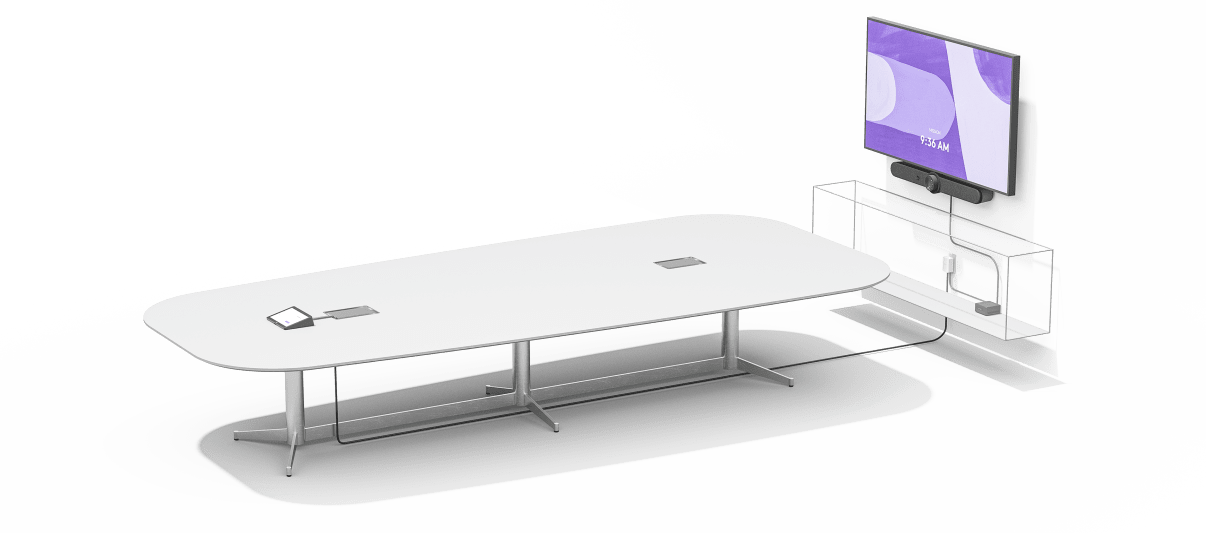 JUST THE RIGHT PRESENCE
With a spacious 10.1" display, low profile, and motion sensor for always-on readiness, Tap IP has a sleek and unobtrusive presence in the room.
SIMPLE AND SECURE CABLING
Streamline setup with a single cable that can be routed through the back or below the device. Keep connections tight with built-in strain relief and retention mechanisms.
MULTIPLE MOUNTING OPTIONS
Install Tap IP almost anywhere in the room with Table and Riser Mounts that fit standard table grommets and rotate 180° for visibility and convenience. Or save table space in small rooms with the Wall Mount.
SINGLE CABLE SIMPLICITY
With a single Power over Ethernet cable, place Tap IP conveniently near room participants for a tidy and professional install.
SIMPLE TO MANAGE WITH LOGITECH SYNC
With Logitech Sync, you can monitor and manage Tap IP along with your other meeting room devices from one single platform.
DIMENSIONS
Tap IP
Height: 56.1 mm
Width: 246.2 mm
Depth: 171.3 mm
Weight: 1.0 kg

Rally Bar Mini
Height: 91.4 mm
Width: 719 mm
Depth: 101 mm
Lens Depth: 18.5 mm
Weight: 4.03 kgs