Blackmagic HyperDeck Studio HD Mini
The Blackmagic HyperDeck Studio HD Mini is a portable broadcast-quality recording and playback device designed for use in professional video production workflows. It features HDMI and SDI inputs and outputs, allowing for compatibility with a wide range of video sources and destinations.
The device can record in a variety of formats, including ProRes, DNxHD, and uncompressed QuickTime, and supports recording at up to 1080p60 resolution. It also has a built-in LCD screen for monitoring and playback, as well as professional audio connections for capturing high-quality sound.
In addition to its recording and playback capabilities, the HyperDeck Studio HD Mini also includes features such as timecode support, remote control via Ethernet or RS-422, and compatibility with Blackmagic Design's HyperDeck Ethernet Protocol. Its compact size and rugged design make it well-suited for use in a variety of production settings, from studios to remote locations.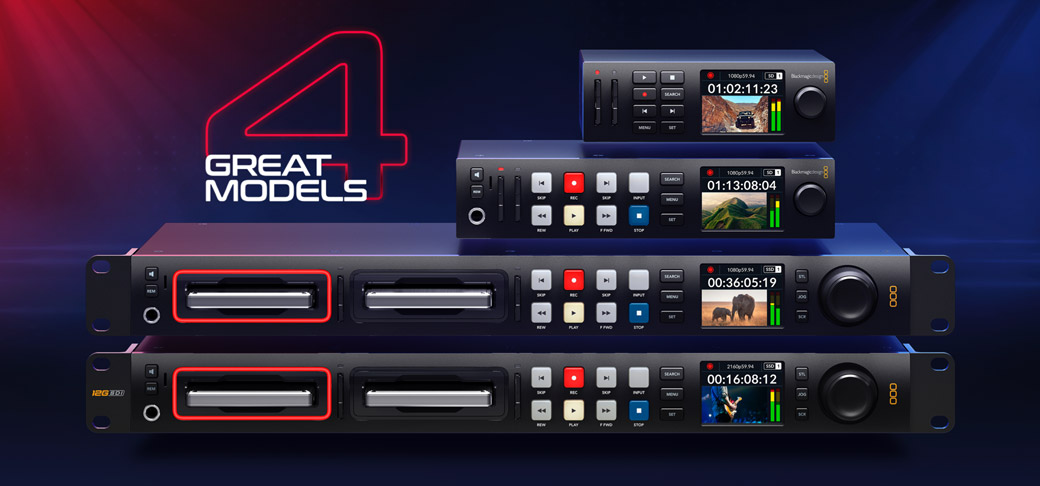 The world'smost
 

advanced broadcast decks!
The advanced design of the HyperDeck Studio family puts the powerful features of a professional grade deck into a compact size that's only 1 rack unit high. This incredible miniaturization is made possible because HyperDeck Studio records onto inexpensive, commonly available SD cards or UHS-II cards, which are a fraction of the size of professional media used in the past. The full rack width Pro models even add dual SSD slots in addition to the SD cards, so you get 4 media slots in total! The small size, combined with dual recorders, professional connections and familiar VTR style controls let you use HyperDeck Studio in ways that are simply impossible with a larger deck!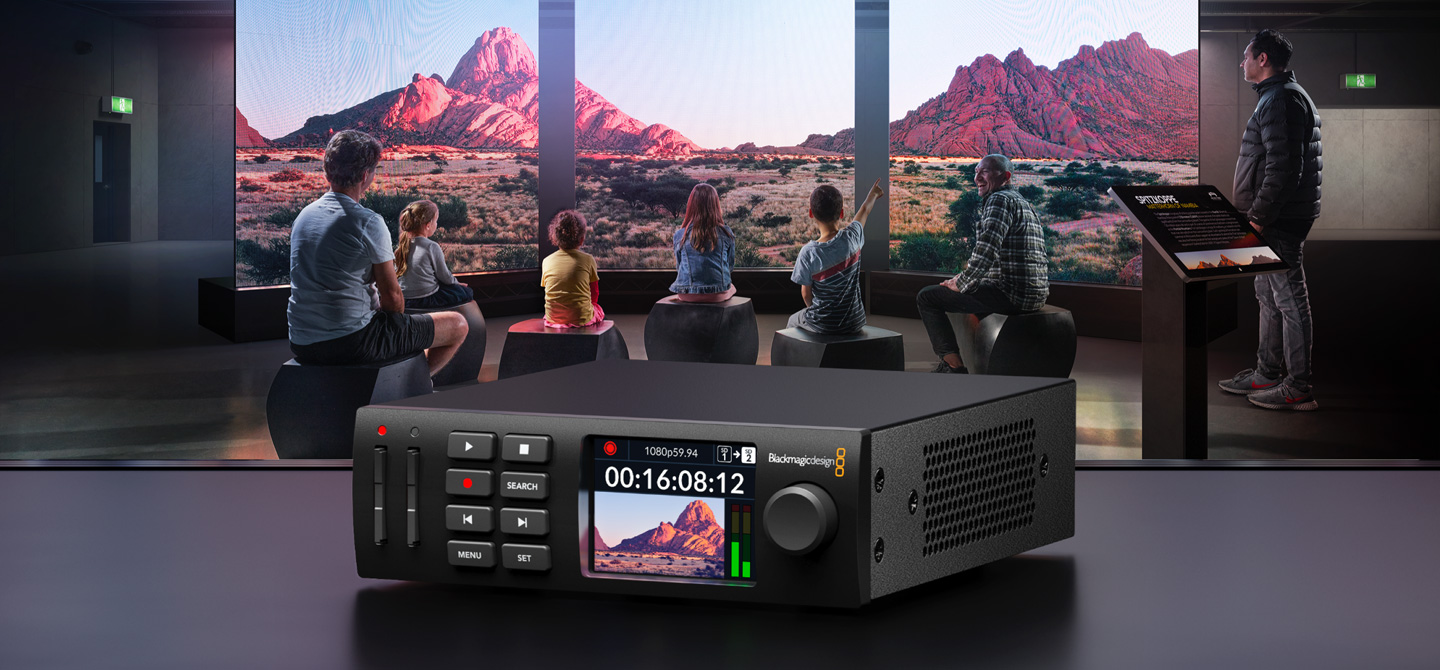 The most compact model of HyperDeck Studio is based on the Teranex Mini form factor. This modular design means that you can use a Teranex Mini Rack Shelf to rack mount 3 HyperDeck Studio HD Minis in a single rack unit, or you can combine them with other products such as switchers, converters or streaming processors. It might be small, but you still get powerful features, such as 3G-SDI in and out, HDMI output, dual SD card media slots, built in sync and timecode generators, front panel controls and both AC and DC power inputs. You can even connect the USB to a computer as HyperDeck Studio HD Mini works like a webcam so you can use any video software!
Media Status
Animated indicatorsshow record or playback.
Transport Control
Compact recordand playback buttons.
LCD Display
Shows video, transport, audio meters and menus.
SD Card Slots
Supports SD cards and the faster UHS‑II cards.
Menu Buttons
Scroll menuswith the search dial.
Search Dial
Compact search dialfor shuttle, jog and scroll.
AC Power Inputs
Built in 100‑240V AC power supply.
Remote In
Broadcast styleRS‑422 deck control.
Reference In/Out
Built in sync generator for syncing decks.
HDMI Out
Playback to consumer TVs and projectors.

DC Power Input
Locking 12Vpower connection.
1G Ethernet
Allows deck controland media file transfer.
Timecode In/Out
Timecode connections from internal generator.
USB-C
Record to externaldisks or disk arrays.
3G-SDI Video
Supports all SD and HD formats up to 1080p60.