BenQ TK700STI Gaming Projector
If you crave the finest audiovisual gaming quality, you want the 4K HDR TK700STi high brightness projector. Experience the sharpest resolution and the lowest input lag ever paired together in gaming. Enjoy the smoothest gaming experience with TK700STi without sacrificing True 4K UHD graphics with lightning-quick 16ms input lag. Share and enjoy mesmerizing streaming movie nights on an expansive 120" screen with TK700STi's onboard Google-certified Android TV.
The BenQ TK700STi is a compact DLP 4K projector with the chops for movies and games. As a movie machine, it sports Ultra HD resolution, HDR, and an Android TV interface. Gamers will enjoy its snappy response, zero motion blur, and 240 Hz refresh rate. A high-quality short-throw lens means easy setup and you can enjoy the sound from a built-in five-watt chambered speaker.
BenQ is a master of this genre with its line of DLP displays. The TK700STi is a 4K DLP short-throw projector with the performance to deliver high-quality imagery for both video and gaming. Ultra HD resolution and a quality lens mean a sharp picture for all content. HDR10 and HLG support cover the latest formats, and it even plays 3D content. For gaming, it accepts 1080p signals at 240 Hz and has super-low input lag. The DLP light engine means no motion blur and quick response. With a fixed lens offset, precise zoom and focus controls, and auto keystone correction, you can display a huge image in moderate-sized rooms with enough light output that you don't have to watch in the dark.
Gaming
he TK700STi is fully capable of interfacing with the latest consoles from Sony and Microsoft. It can run at 120Hz in 1080p resolution but there is no VRR support. In practice, this isn't a big deal because when you're running over 100fps, frame tears are rare. The great thing about this projector is its super-quick DLP response. There is no motion blur whatsoever, even at 60fps. That is something no LCD panel can claim.
I used a Windows PC equipped with a GeForce RTX 3090 video card which can easily hit 240fps at 1080p. The TK700STi is the first projector I've reviewed that can run at 240Hz. Playing highly detailed games like Doom Eternal and Tomb Raider was an absolute hoot. Control response was incredibly quick, instantaneous in fact. There was never any breakup or loss of resolution no matter how fast I moved the mouse. Mowing through monsters in Doom Eternal's horde mode was an addictive experience. Exploring the lush landscapes in Tomb Raider on my 92-inch screen was completely mesmerizing. The TK700STi isn't just a great gaming projector, it's an exceptional gaming display that will run rings around just about any dedicated gaming monitor
Dive Deep Into Big-Screen Impressions!
BenQ Gaming Series projectors bring low latency gaming and cinematic visuals to life on the big screen, unleashing immense imagery and true-to-life gameplay. Equipped for intriguing entertainment as well as gaming excitement, superior video response and visual performance will engulf your friends and family in intense action and joyous wonder of movies, sporting events, and party games.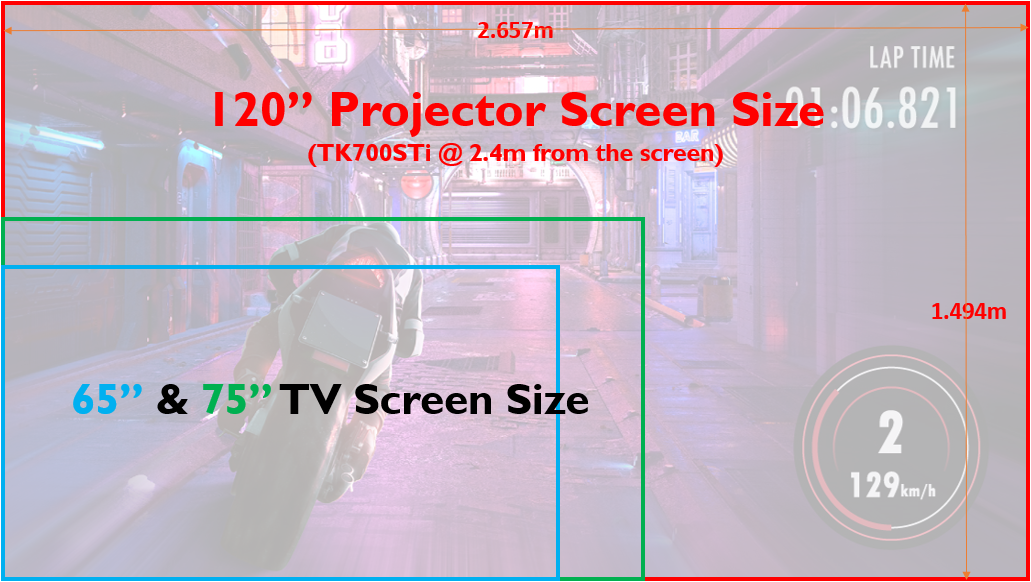 TECHNICAL DETAILS
| | |
| --- | --- |
| Model | TK700STi |
| Platform | Home Theatre |
| Classification | Retail |
| Projection System | DLP |
| Native Resolution | 4K UHD (3840 x 2160) |
| Brightness (Ansi Lumens) | 3000 |
| Aspect Ratio (Native) | 16:9 |
| Contrast Ratio | 10000:1 |
| Lens Type | Short Throw |
| Throw Ratio | 0.9~1.08 - 100" @ 1.99m (100" @ 6.5ft) |
| Display Area | 40" - 200" |
| Zoom Ratio | 1.2x |
| Connectivity (input) | HDMI x 2 (2nd HDMI used for ATV) |
| Connectivity (output) | None |
| Network Connectivity | None |
| USB | X1 (2.0 /1.5A Power, Service) |
| Speakers | 5W x1 |
| Weight (Kg) | 3.1 kg |
| Warranty | 2 Year |